Ethical fashion: 6 Indigenous-owned fashion brands to shop from
Ethical fashion: 6 Indigenous-owned fashion brands to shop from
Indigenous prints have captured many hearts in Australia and around the world. Here's a list of 6 Indigenous-owned fashion brands to shop from — they are either owned, designed and/or produced by powerful Aboriginal and Torres Strait Islander women. 
Best for: all-occasion sheath and silk dresses and scarves 
Ngali is a high-end Indigenous clothing and collectibles line that's been featured in various magazines and the Afterpay Australian Fashion Week 2021. It was founded by Denni Francisco, a fashion entrepreneur and proud Wradjuri woman with over 25 years' experience in the industry.
Ngali's process operates through the lens of Yindayamarra — fashion that is respectful, polite, considered and gentle to Country. It shows honour to the cross country collaborations with other Aboriginal and Torres Strait Islander creatives.
Ngali's collections showcase beautiful Indigenous prints on versatile designs that suit all occasions. Currently, it features the works of Giji artist Lindsay Malay, who is based in the remote Aboriginal community of Warmun in Western Australia's Kimberley region. 
As an Indigenous business, Ngali share their achievements through artist royalties and the Buy 1 Give 1 Business for Good Initiative. Each purchase supports the building of IT and literacy skills for young people in remote Aboriginal communities. 
Best for: maxi dresses and swimwear 
Kirrikin is an Australian luxury resortwear and accessories brand that features artworks of contemporary Indigenous Australian artists. The word Kirrikin itself roughly translates to "Sunday's best clothes", which was recorded by missionaries visiting the Hunter Valley early in the 1820's – it is also part of Wonnarua language revitalisation.
Kirrikin currently works with six Aboriginal artists: Emma Kerslake of Palawa heritage, Kaye Lorraine White from the Gararimarra skin group in the North-West Australian Pilbara region, Buffie Corunna of the Noongar Nation, Sheryl Hicks from Pilbara region, Helena Geiger of the Gumbayngirr language group and Lena Andrews, a Bunuba and Walmajarri woman. Many of the exclusive designs revolve around Aboriginal identity. Their prints explore Aboriginal people, traditions, and their land and capture the essence of Australia. 
The artists' Aboriginal artworks are showcased through digital printing on stunning, yet wearable, handcrafted silk & cashmere scarves; silk neckties, bow ties & pocket squares — as well as sustainable fabric including viscose (wood pulp) and vita lycra (recycled plastic bottle lycra). A percentage of each & every Kirrikin purchase is directly returned to the featured Indigenous Australian artist involved in the design. 
If you love an item but the price tag scares you a bit, remember, their pieces are designed and hand made in Australia. Also don't forget that you can always sell them to thrift stores like SwapUp. 
Best for: loungewear and statement tees
Gammin threads is the creative outlet for Tahnee, a proud descendant of the Yorta Yorta, Taungurung, Boonwurrung & Mutti Mutti nations. Her love of typography, language and living colourfully results in a fun and playful fashion brand that combines deadly tees, jumpers and accessories for women and kids. These products for really fun looks with names like: sweet retreat, coburg nights, hot aunty summer and footscray winter!
Aside from running a fashion brand, Tahnee also works in an Aboriginal family violence prevention service. What an absolute star!
Best for: playful skirts and handbags
Red Ridge the Label was founded in central western Queensland to shine the spotlight of the local Aboriginal artists through beautiful fashion. The artists view fashion as an opportunity for people to see where they come from. 
Each of their collections highlights artwork by different artists. Their debut collection, Diamantina, was based on artwork by Wangkangurru and Yarluyandi women Aulpunda 'Jean' Barr-Crombie and Anpanuwa 'Joyce' Crombie from Birdsville, Queensland. It features dresses with simple cuts yet powerful colours and prints. Some necklaces, bracelets and bucket bags are also available to complete the look.
Their follow-up collection, called Georgina, was named after the region Jean and Joyce grew up in. It features landscape imagery of traditional Aboriginal bush medicines, the wattle and gumby gumby. The collection has dresses, handbags and jewellery, just like Diamantina, with dominant blue and yellow colours. ​​One interesting addition to this latest collection is the natural leather keyrings made by The Lost Art in Blackall using traditional leathercraft techniques. The Lost Art, located in central Queensland, is a social enterprise that actively supports job seekers, promoting social inclusion for disadvantaged groups and education in traditional bush leatherworking.
Best for: mission-based tees
Clothing The Gaps is an Aboriginal-owned and led social enterprise that produces merchandise with a meaning. The label is a play on the words "Closing the Gap", which is an Australian Government health initiative to help close the life expectancy gap between Aboriginal people and non-Indigenous Australians. The dynamic fashion label is 70% Aboriginal-owned and is managed by health professionals that celebrate Aboriginal people and culture.
The merch encourages people to wear their values, that is elevating, educating, advocating and motivating people for positive social change, on their tee. It is an opportunity for Mob and non-indigenous people to embrace Aboriginal Australia's true history, support Aboriginal people and unite together.
Best for: activewear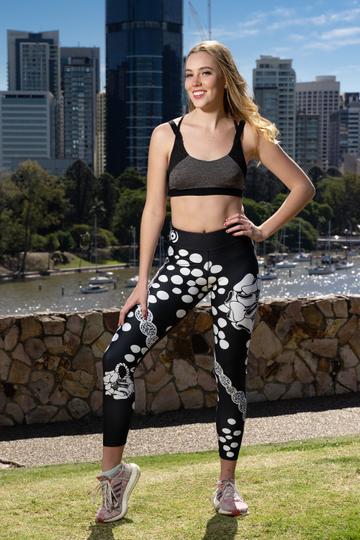 Faebella was created by Alisha Jayne, an indigenous scholarship student who also worked as an art tour guide in the Gold Coast. She realised a lot of people didn't actually know the stories behind paintings and the symbols captured in Aboriginal and Torres Strait Islander artworks. She then decided to share that understanding through her fashion brand, Faebella. 
Faebella works with indigenous artists who want their art to be part of the Faebella collections. Their designers in residence then take the art and incorporate elements of the artwork into their contemporary athleisure collection. The designers support the brand's mission and have a healthy respect for the cultures and artworks involved in the brand.