Sustainable Gifts: Top 5 Christmas Gift Ideas for Kids
Sustainable Gifts: Top 5 Christmas Gift Ideas for Kids
Kids love Christmas because they associate it with holiday, food and presents.
But buying gifts for the sake of gifting is not such a good idea for the environment. Research shows that we create 30% more waste during Christmas from all the unwanted gifts and excess food we feel obligated to share.
We would like to remind you that it doesn't have to be this way!
Receiving (and expecting) a gift is not something that kids are born with. Rather, it's something that our culture reinforces over and over. And while the act of gifting itself is great, sometimes we overdo it and recipients end up wasting the gift.
The upcoming Christmas is a great opportunity to teach kids to focus on the act of gifting, rather than the (value of the) gifts, by reminding them that gifts can take many forms and, truly, it's the memories that count. Our approach to Christmas today will affect our kids' behaviours in the future.

Check out our list of sustainable Christmas gift inspirations below so that your kids' presents today are not harmful to the environment and the future of our kids!
1. Gift an experience
Create memories—not waste—this holiday season by gifting your loved ones a memorable experience. There are many different options out there. The family holiday (which you had planned for anyway) can be a gift. Easier yet, you can take your kids to the local zoo or theme park and take funny photos that your kids will cherish when they are reminded of this Christmas.
2. Adopt a plant
Plants are cool because they keep us cool. Why not try gifting a plant to your loved ones, including children? You can let your kids name and take care of the plant. We recommend picking plants with low maintenance and high yields, like succulents or herbs, so that your kids get to enjoy their hard work!
3. Cook their favourite food
Food as a gift is often underrated. Families take food on the table for granted—even though cooking someone their favourite food is an incredibly thoughtful and personalised gift.
Try baking your kids their favourite treat as a Christmas gift. You can package the treat in a nice reusable container and gift wrap it.
Your kids won't ever expect to get the latest gadget if they're used to receiving simpler, meaningful gifts like food.
Remember the kid who went banana over his banana gift?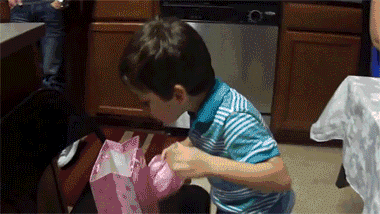 4. Buy secondhand
We've mentioned the #30wearschallenge in our journal but this concept can be applied to anything. Ask yourself if the person receiving your gift would use the item you give them at least 30 times.   
If the answer is yes and you'd like to buy something, we strongly encourage you to go thrift shopping. Buying secondhand is an affordable and sustainable shopping option for almost everything, especially kids stuff! As an alternative to spending the same amount buying new, but low quality items from fast fashion retailers, you could look for thrifted quality products from local businesses, online thrift stores and op shops around you.
If you're looking for second hand baby and kids clothing and accessories, look no further. Our SwapUp online thrift store / online op shop has got you covered. You can even stack your gems with a 5% off discount :)
5. Buy recycled or natural stuff
Finally, if you really need to buy something new, consider getting items that use recycled or natural material. You can opt for ethically produced wooden toys, recycled puzzles or biodegradable arts and crafts supplies. 
What do you think you'll be getting your kids for Christmas this year? Share your idea with other parents below!
---
The original content was previously published on Junico Kids which has now been fully consolidated into SwapUp.